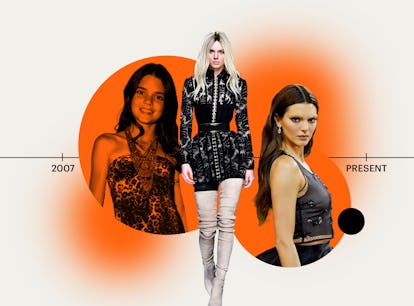 Kendall Jenner's Beauty Evolution Is A Runway-Worthy Journey
She's always ch-ch-changin' up her looks.
Lindsay Hattrick/Elite Daily; Getty Images
Only in the Kardashian-Jenner family would international supermodel Kendall Jenner be considered the *least* adventurous when it comes to fashion and beauty. Taking a look at the style metamorphoses of trend-defining sister Kim, hair transformation pioneer Khloé, makeup maven Kylie, and style chameleon Kourtney, Kendall's beauty evolution may look pretty tame — but that doesn't mean she hasn't undergone her fair share of drastic makeovers.
As one of her generation's most famous faces, the second youngest KarJenner has been a blonde, brunette, and redhead in the span of just a few years. She's worn some truly wild makeup and even donned huge (temporary) tattoos, but at the end of the day, Kendall's biggest beauty moments are mainly limited to her professional life. Off the runway and away from the red carpet (aka at home and on her family's reality TV show, The Kardashians), this KarJenner is mostly a jeans and T-shirt kind of gal.
Even so, when you've spent years modeling for some of the biggest names in the fashion world, you're bound to have rocked a few dozen daring beauty looks. As you'll see in Kendall Jenner's beauty evolution, that's definitely the case for the world's highest-paid supermodel. From faux piercings to bleached brows, slicked-back bangs to brightly dyed locs, Kendall's been there and done that for almost every beauty trend imaginable.
This article was originally published on