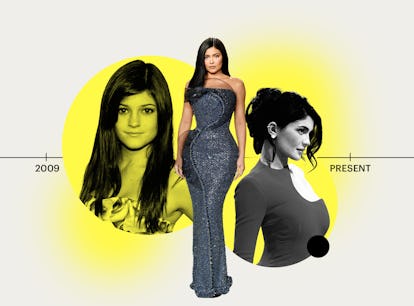 Kylie Jenner's Beauty Evolution Is Full Of Luxe *Lewks*
The life of Kylie is a life of high glam.
Getty/Elite Daily
Kylie Jenner's beauty evolution is one for the history books. At just 25 years old, she has experienced more distinct beauty eras and glow-ups than most folks twice her age. It's probably par for the course when you grow up as a Kardashian-Jenner, but the young entrepreneur's beauty transformations also stand out from those of her sisters. At an early age, this Jenner carved her own path in the world. It was a path lined with lip kits, pastel wigs, and coloring outside of the lines. From starting the overdrawn lip craze that launched a thousand lip kits to her edgy, street style-inspired King Kylie era, Jenner has proven that she's got her family's knack for reinvention and then some.
Since launching Kylie Cosmetics in 2015, the youngest KarJenner has become a major makeup mogul and fans flip over every new limited-edition drop, collab with friends or family, and product launch. The dedication Jenner shows to Kylie Cosmetics can also be seen in her beauty evolution. When Kylie Cosmetics launches a new product, it sells, and when Jenner herself commits to a new beauty look, she really commits.
It's not surprising that this young mom and business mogul has nailed the machinations of the glow-up. After all, she spent her most awkward years — that preteen phase when your body starts growing your adult features at drastically different rates — on camera. Ahead, I've gathered up the most iconic stages in Jenner's beauty evolution. Strap in, folks. It's a wild ride.
This article was originally published on