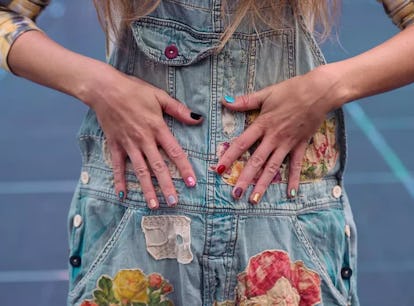 The Taylor Swift-Themed Nails You Should Get, Based On Your Fave Era
TFW making the whole place shimmer is your brand.
Is there anything happening in the music world that isn't related to Taylor Swift? Between the rotating surprise songs, big-name special guests, three-hour setlist, and seemingly endless outfit changes, there's so, so much to talk about when it comes to the singer's Eras Tour alone. For dedicated Swifties, the concerts have become FYP-worthy fashion shows, with 'fits ranging from sweet to spicy. One of the hardest decisions for attendees: choosing just one of Swift's 10 unique eras for the perfect tour 'fit, then nailing down a Taylor Swift-themed manicure to match the vibes.
The Grammy winner herself has long used nails to complement her current era's look, introduce a new album, or even to make a poli-centric statement. Whether you're one of the lucky ones headed to the Eras Tour this season, or you're simply a Swiftie in need of new nail ideas, there's a mani look guaranteed to go with your preferred aesthetic. And you don't have to be a mastermind to nail any of the styles.
Below, you'll find your perfect Taylor Swift-inspired manicure, based on your fave album. Regardless of your choice, *bejeweled* doesn't even begin to describe it.
And of course, if you're indecisive or if choosing one era is like choosing a favorite child, you can always take a lead from Tay and devote one nail to each of the 10 eras in a patchwork style.