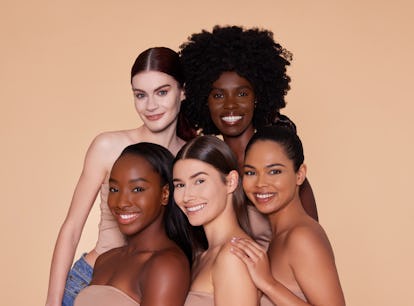 SHEGLAM's New Powder Foundation Is Literally Made for Everyone
This isn't your grandma's formula.
Courtesy of SHEGLAM
If you haven't used powder foundations in forever, you're not alone. That's because powder foundations have gotten a bad rap for looking dusty or chalky, caking easily, and not lasting throughout the day — all totally valid points when we're talking about the powders of the past. But that's no longer the case. These days, you can find powder foundations that finally balance ample coverage with a natural finish, all in a long-wear formula. Exhibit A: SHEGLAM ​​Skin-Focus High Coverage Powder Foundation.
The formula breaks the mold for a few reasons: Not only does it come in a wide variety of diverse shades, but it actually blends smoothly into skin for a weightless, no-makeup makeup effect, too. It's also talc-free, which is a hard thing to find among powders. And, of course, in being a powder foundation, it helps keep shine from ruining your makeup look throughout the day. Here, what makes it such a game-changer in any complexion routine.
The Shade Range Accounts For Everyone
The beauty industry has been notoriously slow to acknowledge the diversity of skin tones in its shade offerings, especially when it comes to those with medium to dark skin. But the Skin-Focus High Coverage Powder Foundation comes in not 10, not 20, but an impressive 36 shades. They account equally for light, medium, and deep skin tones — allowing it to work for all people, whatever their foundation match.
It's Built To Perform
First up is the coverage — because this isn't just a powder. The Skin-Focus High Coverage Powder Foundations offers, as the name implies, full coverage without the talc, seamlessly blurring large pores and blemishes and evening out skin tone. Despite that, it doesn't ever get cake-y or feel heavy on skin. Instead, it has a weightless, soft-focus effect that's not too dewy, but not too matte.
It's Actually Good For Skin
The reason this silky powder doesn't leave skin feeling dry or looking dull? It's actually infused with shea butter and jojoba seed oil, which help nourish and balance skin while you wear it. (FYI: You should still cleanse and apply moisturizer before applying this foundation for the smoothest possible result.) That said, it's still a winner for oily skin, too, as the powder absorbs excess oil to minimize shine and extend the wear time. In fact, it's so long-lasting that it's actually waterproof, making it a clutch complexion product for summer. That heatwave can't touch it.
Touch-Ups Are A Breeze
Not only is the small compact portable (and able to fit a generous amount of product), but it also houses a small puff for application. You can use it to apply the foundation all over, as well as pat it onto any areas of your face that are prone to greasiness (like the T-zone and chin, let's be real). Plus, it has two different textures: a sponge for laying down your base, and a flocked texture to touch-up or set your makeup.
Bottom line? Long-wear, lightweight, and versatile, the SHEGLAM Skin-Focus High Coverage Powder Foundation is a next-gen powder foundation that's hard to beat. And with it clocking in at under $10, there's no reason not to add it to your makeup arsenal, stat.