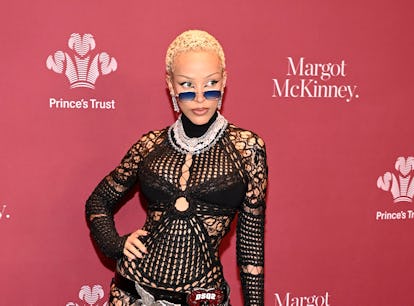 Doja Covered Her Whole Back With A Giant Bat Tattoo & It Actually Has Deep Meaning
Now that is a lot of ink!
Dave Kotinsky/Getty Images Entertainment/Getty Images
If there's one celebrity who can always find a way to shock their fans, it's Doja Cat. Whether she's shaving off her eyebrows on Instagram or transforming herself into a literal cat at the Met Gala, Doja never fails to evolve her aesthetic in the most innovative, eye-catching ways. And her latest tattoo is complete proof of that. Doja showed off her biggest tattoo yet in a recent Instagram post: a bat skeleton that covers her entire back. And although the bony beast may look a bit creepy at first, Doja explained why it carries a deep meaning for her.
Doja Cat showed off her transformation into Doja Bat in a photo carousel posted on May 5. The new piece is the superstar's largest tattoo by far, encompassing her entire back. The bat skeleton's wingspan stretches across both her shoulder blades, with its feet and tail nearly reaching her waist. The dark and daring tat totally fits in with Doja's several other pieces of ink, which include spiders on her forearm and an illustration of a monstrous creature that she had to defend from naysayers calling demonic.
The singer didn't want fans to misinterpret this new body art, so she included the meaning behind it in her post. She highlighted the section from a blog about animal symbolism that explained why the bat resonated with her: "Bats often represent death in the sense of letting go of the old, and bringing in the new. They are symbols of transition, of initiation, and the start of a new beginning."
Clearly, Doja was drawn to the idea of transition and new beginnings when getting the bat inked on her back, which makes sense given her recent roller coaster of emotions in regard to the music industry. Back in 2022, Doja threatened to quit music after a Twitter spat with fans, and earlier this year, she announced she's done making pop music and will instead focus on rap. From the sounds of things, her upcoming album Hellmouth could be her most unexpected and experimental release yet. If that's the case, the bat tattoo makes even more sense — she's leaving the old Doja behind and embracing an entirely new artist.