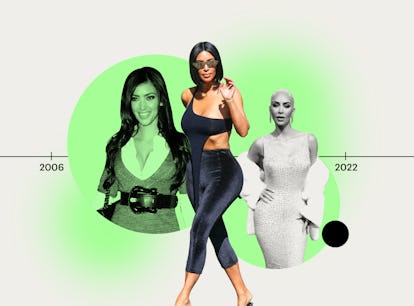 Kim Kardashian's Style Evolution Is Full Of Bangers, No Skips
Bible, it just keeps getting better.
Lais Borges/Elite Daily; Getty Images
Kim Kardashian's style evolution, much like her career, has been quite the roller coaster. From her not-so-humble origins of working as Paris Hilton's stylist and starring in Keeping Up With the Kardashians, Kardashian has evolved into one of the world's most influential people. Not only has she founded KKW Beauty, relaunched as SKKN BY KIM, and SKIMS, *the* coolest shapewear brand of all time, but the reality-personality-turned-mogul has made a name for herself in every imaginable industry, from private equity to true crime podcasting.
Over the years, Kim Kardashian has tried every trend in existence. Whether it be a new hairstyle, makeup look, or overall aesthetic, the Kardashians star has never shied away from switching up her vibe. Her Y2K ensembles were flashy and fun, characterized by excessive bling and big hair, while her later aughts looks were more sultry and sophisticated, consisting of plunging necklines and sleek, long locks. Since 2006, she's gone from jet black hair to icy platinum, transitioned from monochrome to multicolored (and back again), and transformed from over-the-top to minimalistic and glamorous.
While most celebrity styles can be divided into specific eras, this has never been the case with Miss Kim K. The SKIMS founder frequently pulls from her fashion and beauty archives, using former looks as present-day inspiration. By reviving past aesthetics and silhouettes, Kardashian proves that her greatest looks will never truly go out of style. In celebration of Kim Kardashian's 42nd birthday on Oct. 21, here's a roundup of some of her most memorable looks from 2006 to today.
This article was originally published on