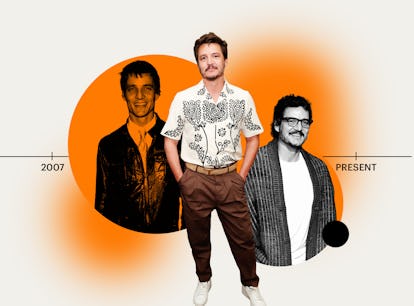 Pedro Pascal's Style Evolution, From Dadcore To Daddy AF
Elite Daily; Getty Images
It feels like an angel blessed the world by dropping Pedro Pascal into everyone's laps within the past couple of years. The actor's career has exploded seemingly overnight, but he's certainly not an acting newbie. You might've seen his roles in Game of Thrones, Narcos, The Mandalorian, and The Last Of Us — just to name a few. (With a Starbucks order like his, it's no surprise that it feels like he never sleeps these days.) And, just as his career has come a long way, so too has Pedro Pascal's style evolution.
Nearly unrecognizable without his signature scruff, he came onto the scene doing theater and smaller TV roles. His style in his earlier years felt very safe, inoffensive, and true to the times; think jeans, leather jackets, tight sweaters, and traditional suits. Once he established himself in Hollywood, there was a noticeable shift. Suddenly, his style felt less generic and more authentic; less predictable and more experimental. Thus the start of his daddy era, or dadcore. Bring on the knits, turtlenecks, and glasses. No longer does dadcore simply stand for bermuda shorts and sandals, a 'fit you might see at a barbecue or a youth soccer game. The style has rebranded to a more elevated look. Less dad, more... daddy? The actor is living proof that you don't need to be an actual dad to have Big Daddy Energy™.
Pascal shows time and time again that both he and his style have aged like the finest wine. Below, you can track Pascal's style as it blossoms from 2007 to today.
March 2007: Pedro Pascal Rocks The Leather Look
At one of Pascal's earliest premieres, his look screamed Y2K with the skinny jeans and fitted leather jacket combo, worn over a button-down shirt and tie. Little did everyone know just how far his style would come several years later.
January 2012: Pedro Pascal Keeps It Tight
In a more preppy look, Pascal layered a dark long-sleeve over a button-down (perhaps inadvertently igniting the eventual sheer, mesh trend?). The star played it pretty safe, not venturing out with any bold colors, prints, or textures this time around.
March 2014: Pedro Pascal Stays Classy In A Simple Suit
Another classic 'fit, Pascal sported a pinstripe suit with pops of red for the premiere of Game of Thrones Season 4, a turning point in his career (RIP, Oberyn Martell) but not yet his style. The blue emblem on the tie gave just a slight hint of more daring style choices to come.
April 2014: Pedro Pascal, Suburban Dad?
Giving peak suburban dad energy, Pascal sported a blue flannel and skinny jeans, layered with a brown corduroy jacket, to an opening night for the indie film The Substance of Fire. The dirty sneakers really make the 'fit pop, don't you think?
September 2017: Pedro Pascal Experiments With Patterns
This year was a pivotal moment for Pascal. Closing out his starring role in Narcos and joining the cast of Kingsman: The Golden Circle, it became clear that the actor was here to both stay and slay. The look, reminiscent of many of the 'fits he continues to wear today, pairs a rust-colored turtleneck with a plaid suit to give everyone all of the fall feels.
January 2018: Pedro Pascal Rocks A Monochromatic Look
Pascal proved that sometimes simplicity is golden with this tailored olive suit paired with clear-framed glasses. Glasses became a bigger staple for the actor during this era, leaning heavily into dad(dy?)core.
January 2019: Pedro Pascal Gives Indiana Jones Vibes
Perhaps not his most chic outfit and another recall to the suburban dad vibe, Pascal still got experimental with this leather jacket and fedora combo that screamed Indiana Jones. While the 'fit diverged from the vintage daddy vibes he served before, it still showed that he's not afraid to try new styles and pieces.
August 2019: Pedro Pascal Goes Retro in Patterned Button-Down
The 'fit Pascal wore to a Disney+ showcase gave big retro energy. He paired a floral shirt, contrasted with white detailing, with burnt orange slacks. It feels like the '70s are always coming back in style, with this look being a prime example.
December 2019: Pedro Pascal Is Silky Smooth
Rather than playing with colors, Pascal used silhouettes and textures to amp up this look for the Star Wars: The Rise of Skywalker premiere. The silky black-and-white overcoat, accented with a subtle dotted print, took on a sweeping length. The coat complements his plum button-down perfectly in a finish just as silky smooth as he is.
March 2022: Pedro Pascal's Paisley Print
Pascal played with prints again in this white top embellished with black, whimsical illustrations. He finished the look with brown slacks and a tan belt that gave the 'fit a light Western flair. The understated look feels authentically double P in all his glory.
March 2022: Pedro Pascal's All-White Suit
Pascal knew how to make a statement at the premiere for The Unbearable Weight of Massive Talent (which you probably know from *that* 2023 meme). The all-white moment kept it fresh and clean, only showing pops of detail in his loafer buckles.
January 2023: Pedro Pascal's Bejeweled Era
Pascal made the whole place shimmer at the premiere of The Last of Us with this sequined, longline overcoat with coordinating boots because a diamond's gotta shine, you know? He let the bling speak for itself, keeping the rest of the look, down to his glasses, a true black — going in the opposite direction of his previous big look.
February 2023: Pedro Pascal In Crochet Knit & Bold Pants
Pascal threw it back again with another retro-inspired 'fit of a brown crochet, collared top and wide-legged red slacks. He knew what he was doing by keeping only the bottom buttons open, revealing his gray undershirt. Daddy? Sorry.
February 2023: Pedro Pascal Gives Arthur Energy
Pascal's 'fit for The Mandalorian's Season 3 premiere was a beautiful cross between a high school English teacher and Arthur Read (yes, the aardvark from the '90s kids' series). The star of the look is the mustard sweater tied around his shoulders in a subtly preppy way, tying in the pale yellow of the button-down and complementing it with another pair of wide-legged pants. The icing on top of the cake? The glasses, of course.
March 2023: Pedro Pascal Goes Peak Dadcore
Pascal took on his truest dadcore form in this casual 'fit, a plaid, knit cardigan over a white tee, olive slacks, and a new pair of glasses. There's no doubt he will continue blessing his fans with more dadcore, retro looks going forward. He truly understands the assignment.
May 2023: Pedro Pascal's Leggy Display
Against the odds, Pascal found a way to outdaddy himself at the 2023 Met Gala — wearing a red trench coat and black shorts of all things. The coordinating red shirt, black tie, and black boots probably would've been enough to seal the deal, but did you see his hair?! In the words of Taylor Swift, with that "long hair slicked back," he'll "never go out of style."
This article was originally published on