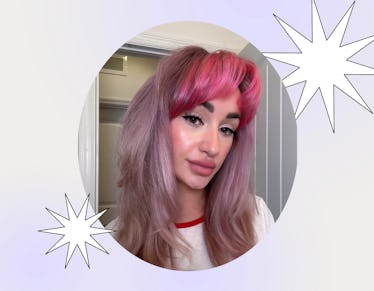 I Tried TikTok's Viral Gemini Hair Trend For A Spring Refresh
The beautyTok fave is actually super easy to achieve.
Courtesy of Svetlana Uryanskaya/Elite Daily.
We may receive a portion of sales if you purchase a product through a link in this article.
Represented by celestial twins, the Gemini zodiac sign might be best known for its duality. TikTok is putting a colorful twist on the sign's two sides with the viral Gemini hair trend — and it's an edgy refresh ahead of spring. Elite Daily spoke to beauty influencer Svetlana Uryanskaya, aka @beautybysveta on TikTok and Instagram, who tried the Gemini hair trend and shared the easiest step-by-step directions for recreating the bi-tonal color at home.
Achieving the Gemini hair's two-color effect initially looks like something best left to a stylist, but it was "actually pretty easy and fast" to do without a salon visit, Uryanskaya tells Elite Daily. While you can technically get in on this trend with any color combination (think blonde money pieces on brunette or black hair), the TikToker recommends trying a pop of color — pastel colors are great for spring — to have some fun with it. "You can rock any color with Gemini hair — it's all about confidence," she says.
How To Get Gemini Hair At Home
There are few different ways to make the Gemini hair trend your own, so once you pick the colors you like, you'll want to search for an inspo image on Instagram or Pinterest for how you want it done.
"You can do hair split straight down the middle with different colors on either side, colorful money pieces or bangs, peekaboo under-layers, or the way that I did it," Uryanskaya says, gesturing to her vibrant locks. She decided to lean into Pantone's 2023 color of the year with Viva Magenta-inspired bangs, which she paired with delicate lavender top layers. The influencer, who cites looks from James Earnshaw Hair and Pipsqueek in Saigon as inspiration, used semi-permanent oVertone Coloring Conditioners to get her Gemini hair with a deep conditioning effect, but you can use any temporary coloring products if you want to test out the look first.
Starting with clean dry hair (the color will absorb better on dry hair), Uryanskaya sectioned off her bangs from the rest of the hair and mixed the colors. "I mixed a 1:1 ratio of oVertone Pastel Purple and oVertone Pastel Pink to achieve a more lavender color," she says.
Put on gloves to prevent the color from staining your hands, then start from the bottom of your hair, applying a good amount of product to thoroughly saturate each section with the deep conditioner. After you finish applying the lavender color, do your bangs with the Vibrant Pink Coloring Conditioner to get a bold pop.
"I waited for 15 minutes and rinsed it off with cold water, no shampoo," Uryanskaya says. Style as desired, then take some pics and TikToks to document your new look. The color will come out in a few washes, so feel free to try a different Gemini hair style next.
The Easiest Ways To Try Gemini Hair
Dyeing your hair can feel like a huge commitment, but you can go the temporary route first to check out how different Gemini hair colors and styles look on you. "I recommend using the L'Oreal Colorista Temporary 1-Day Hair Color Spray," Uryanskaya says for people who don't want to wait for oVertone's color to wash out. "They have a great selection of colors, and one wash, and it will be gone." Using vibrant clip-in hair extensions are also a super safe option to try the trend, although they can be on the more expensive side.
When all else fails, the TikToker says you can get hair color out quickly with the right product. "My secret weapon for when I need to remove the color ASAP without any damage or bleach is Color X-Change Phase-Out Gentle Dye Decolorizer + Intensive Hair Mask on Amazon," she says. "It does wonders!"
Gemini Hair Products