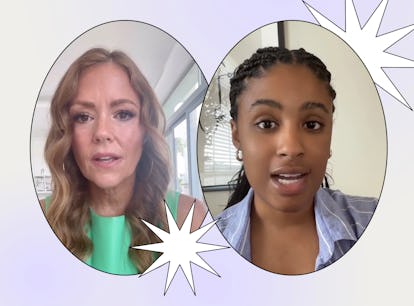 A Breakdown Of The Tarte Island: Turks & Caicos & F1 Trip TikTok Drama
Tarte's CEO admitted that the brand has "fallen short in matters of diversity."
TikTok/Elite Daily
Aside from makeup, there's one thing Tarte is really good at — creating buzz on TikTok. Earlier this year, the cosmetics company went viral after TikTokers called out Tarte's "Dubai" influencer trip as "tone deaf" for sending creators like Alix Earle and Monet McMichael on a bougie, all-expenses-paid vacay amid high inflation and prices for things like eggs at the grocery store. Some TikTokers claimed the trip was a marketing mishap, but Tarte seemed unbothered at the time, responding to the criticism with a tongue-in-cheek TikTok featuring its Shape Tape mascot. The brand has since continued to host well-known TikTokers and beauty influencers on its highly publicized #TrippinWithTarte adventures, but the most recent trips are getting some heat from the actual creators themselves. So much so, CEO of Tarte Cosmetics Maureen Kelly actually responded to the Tarte Island drama and Formula 1 backlash on TikTok; both Tarte and one of the creators came together to share a joint statement, saying it was all a "miscommunication"; and most recently, Kelly admitted that Tarte had "fallen short."
Jumping into the Tarte drama kind of feels like getting stuck between two fighting besties. You want to know the full story, and that can be hard when there are so many TikTok videos to watch in order to catch up. This is when a TL;DR (or rather TL;DW — too long; didn't watch) breakdown is necessary, and it all starts with Tarte's most recent trip to Turks and Caicos.
What Is Tarte Island?
The Tarte Island influencer trip brought content creators like Earle, Meredith Duxbury, and Stassie Karanikolaou to Turks and Caicos to stay in Prince's former island estate. Instead of staying in a hotel, where every influencer is given an identical suite, they stayed in a home. That means that the accommodations were of different layouts, so not every creator could be offered the same size space.
Cynthia Victor (@shawtysin), one of the influencers on the trip, revealed that she was given one of the smaller rooms in a TikTok video posted on Monday, May 1. Victor shared that she wasn't aware that her room wasn't the same size as others' until she saw room tours from some of the other influencers on TikTok, and felt that she got the "short end of the stick" as a "minority creator." She said it wasn't the size of the room that upset her, but feeling that she was not being treated equally as a BIPOC creator. She also said she was upset some creators got to stay longer than others.
Tarte Island was broken up into two trips for different groups of influencers — Tarte Island Season 1 and Tarte Island Season 2. Victor was a part of the Season 1 crew, who went home before the Season 2 creators took over. However, some Season 1 influencers got to stay for both "seasons" of the Tarte brand trips. In response to Victor's TikTok, Tarte shares some context with Elite Daily. "Since we were in a private home, all rooms of varying layouts were utilized, so we could maximize the number of people who could join us this time around," Tarte says. "Utilizing a private home is clearly very different than the uniform accommodations of a hotel."
Overall, there were 16 rooms in the home — nine large, three medium-sized, and four smaller rooms — and each room was "assigned in advance based on check-in/check-out timing, plus ones, and more." Tarte admits, "We selected this house because we felt all of the rooms within this private estate were stunning and would be great accommodations for all of the creators joining us. In fact, the BIPOC creators were only situated throughout large and medium rooms and were offered the same experience as every other guest throughout the stay."
On the topic of Tarte Island Season 1 and Tarte Island Season 2, the brand shares that some creators only stayed for both trips because of "individual specific situations," like a photoshoot, or paid to stay longer through "personal expense."
TikToker Bria Jones Shared Her Experience With Tarte For A Brand Trip To Formula 1
It was Victor's video that inspired Bria Jones (@heybriajones) to share her experience with Tarte in a now-deleted TikTok posted on Thursday, May 4. In her confessional, Jones said that she was invited to Tarte's Miami Formula 1 trip, starting on Friday, May 5. However, Jones backed out of the experience after feeling slighted by the team. "I would love to go on a Tarte trip," Jones said, "But I have more integrity than to get all the way to Miami and realize that I'm being treated like a second-tier person."
Jones shared that the original email invite mentioned attending the race on Sunday, May 7, but after checking her plane tickets, she realized Tarte was going to send her home the day before. When questioning her friends, who were also going on the trip, about their schedules, she claimed that they were all flying out Monday, May 8 after attending the race on Sunday. "As grateful as I am to be invited on a Tarte trip, I was sad to realize my experience was going to be different than my friends that were also invited," Jones wrote in her caption. "I have been on many brand trips and typically everyone is treated the same, so this caught me off guard. I wish I had the heads up."
Jones has since released a second TikTok regarding the Tarte Miami trip. In the video, the creator admitted that there was "miscommunication on both ends" and she unfortunately "responded so quickly and publicly" by posting her first video. Jones' caption called out the bullying that has happened since the Tarte drama started online, and said that both she and Tarte are "moving forward in a positive way."
Tarte Responded To The Tarte Island Drama On TikTok
After Jones posted her first TikTok, it didn't take long for Kelly to respond to the criticism and clear the air with her own video. The CEO, who said Tarte has been hosting influencer trips for over a decade now, mentioned that same miscommunication Jones brought up over these recent influencer trips.
In response to the Tarte Turks and Caicos trip room controversy, Kelly shared — while putting on makeup — that she'd rather have more influencers there and fill out all the rooms rather than only put people in the large suites. As for the Formula 1 Miami trip, Tarte and Jones released a joint statement explaining what fans may not have seen from just a few TikToks online:
"From the Tarte side, the initial email to Bria with her trip details did include a confusing typo, and the brand takes full responsibility for that," reads the statement to Elite Daily. "We both recognize that we could have easily cleared the air together before feelings were hurt. Bria acknowledges and understands that posting that video has allowed for miscommunication and confusion."
Tarte and Jones admit they want "the best for each other," and the brand even says it's a big fan of Jones. "We know things on the internet can look even worse than they are in real life, and we're happy to move forward with a positive relationship." The brand's even "made plans for Bria to come to Tarte's NYC HQ this summer for a fun photoshoot and a night out in the city!"
CEO Maureen Kelly Shared A Second Response Video On TikTok
Some TikTokers felt that Kelly's first TikTok video addressing the controversy was a bit dismissive, like @joshspice who poked fun at the CEO's response. Days after Tarte and Jones shared their joint statement with Elite Daily, Kelly uploaded a second TikTok video responding to the criticism. Instead of getting ready in her bathroom, this time around Kelly took a more somber approach with just a direct-to-camera apology.
"I take full responsibility for a TikTok video that I posted responding to claims by a respected and valued Tarte creator," Kelly started off the video. She admitted that her "light-hearted approach" to a serious discussion on issues of diversity and inclusion "missed the mark, noting that she "should have used this as an opportunity to address the unequal treatment of Black creators within beauty creator programs."
Kelly went on to share that Tarte has "fallen short in matters of diversity, inclusion, and equity in the past," and the company will be implementing news steps to ensure this doesn't happen again. The brand will be reviewing its creator program to make sure it is "inclusive and equitable," and be more transparent moving forward on how the company will work with and choose creators. Kelly ended her video saying a final, "I'm so sorry."
With these changes, hopefully there won't be anymore Tarte drama on TikTok and everyone can return to enjoying all the GRWM videos, vlogs, and room tours from the brand trips. May the odds be ever in your favor of being invited to one.
This article was originally published on