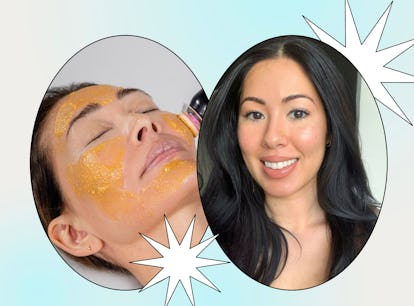 I Tried A Geneo Facial & It Gave My Skin A Golden, Built-In Filter
This next-gen treatment only takes 15 minutes.
Geneo Facial/Elite Daily
The HydraFacial is arguably the mother of all facials — due to its hydrating benefits and ability to suck even the deepest gunk out of your pores — so it's no surprise that a 15-minute "facial of the future" from the company's former CEO is getting a ton of buzz both in Hollywood and on TikTok. The luxe treatment, called the Geneo facial or Glo2Facial, is going viral for its ability to give you a red carpet-ready glow and microdermabrasion-level exfoliation, rejuvenate your skin, and depuff your face with *zero* downtime. So, after a few weeks of neglecting my skin care routine left me with more clogged pores, puffiness, and hyperpigmentation than usual, I saw it as an opportunity to try the Geneo facial to see how the next-gen treatment stacked up compared to other facials I've tried.
Celebs like Gwyneth Paltrow and Zoë Kravitz reportedly swear by the "lunchtime" facial for how quick and effective it is, thanks to its use of ultrasound waves and "oxfoliation" technology that creates the ideal conditions for your skin to absorb the Geneo's active ingredients. When I made my Geneo facial appointment at Shotbar Chicago late one afternoon, I also decided to keep my dinner reservation that evening to see if the treatment really didn't require any recovery time for my skin.
What Happens During A Geneo Facial, Exactly?
According to its website, the Geneo Glo2Facial has three main steps: exfoliation and oxygenation (or "oxfoliation"); an ultrasound experience, which smooths your skin and infuses it with nutrients and hydration; and then a sculpting lymphatic drainage massage that gets rid of any puffiness or redness.
Shotbar Chicago's owner, Lindsey Sikora — who acted as my esthetician and performed the treatment on me — breaks down the science even further, noting that, instead of pushing oxygen into the skin like with a typical oxygen facial, the treatment oxygenates your skin from inside out. Using Geneo OxyPods (capsules filled with different skin care ingredients depending on the treatment you get) and a Geneo primer gel to exfoliate your skin and create carbon dioxide bubbles on your face, this combo triggers what's called the "Bohr effect." Basically, your body naturally sends more oxygen to the surface of your skin to counteract a rise in carbon dioxide levels, so your skin is in the ideal state to be infused with nutrients throughout the whole treatment.
Unlike the HydraFacial's one experience, the Geneo facial has six skin-specific treatment options you can get: the Glam, Balance, Illuminate, Revive, Hydrate, and Detox. Each treatment comes with its own specific OxyPod combo and serum. After a skin consultation with Sikora where I discussed my main beauty concerns, I decided to try the Glam Geneo Facial, which uses copper and gold flakes to treat scarring and pigmentation, as well as to plump, lift, and firm your skin, all within the amount of time it takes to do a Starbucks run.
My Geneo Facial Felt Even Shorter Than 15 Minutes
Sikora thoroughly cleansed by face and began the oxfoliation process using a Glam OxyPod with pure gold flakes, copper, and silk amino acids. She called this specific treatment a "red carpet facial," and said I should expect an ethereal 24K glow, minimizing of any fine lines, and firmer, plumper skin after 15 minutes.
My first impression was that the Glo2Facial machine resembled the HydraFacial machine, although the applicator wand looked like it had a textured scrubber instead of a suction device on the end. After putting the primer gel on my face, she began going over it with the OxyPod to exfoliate it, remove the dead skin cells, and flood my skin with oxygen. This felt a little more abrasive than I'd expected, and my skin felt a slight stinging sensation, almost like a mild chemical peel.
When I mentioned this to Sikora, I was surprised to learn that, despite how brief this step is, the Geneo facial actually provides deeper penetration and a more thorough exfoliation than the HydraFacial, due to the CO2 Oxfoliation step. In fact, the esthetician compared the Glo2Facial's exfoliating results to those from microdermabrasion rather than other facials.
Hearing this, I started getting a little anxious that my face would be bright red after the facial, but she assured me that there wouldn't be any downtime post-treatment.
The last two steps went by really quickly. She began infusing my skin with the Glam serum — which has a hydrating and firming blend of marula oil, rosehip oil, grapeseed oil, hyaluronic acid, shea butter, and Voluform (a skin-plumping ingredient) — using the ultrasound. The last step was a lymphatic drainage massage with the ultrasound, which had what felt like a small plastic ball on the end. This felt relaxing, and she said it would depuff my face while also encouraging the absorption of even more of the serums and skin care ingredients (a win-win).
My Geneo Facial Results Were Honestly Shocking
Looking in the mirror after my Geneo facial ended, I was surprised just how good my skin looked. It literally looked like I had a built-in filter. Despite the tingling oxfoliation process and the lymphatic drainage massage, my skin had zero redness or inflammation. If anything, it had a "just had sex"-esque flush, and the gold serum made my skin look so bright, hydrated without being oily, and even a little tan due to the gold particles — a welcome effect after a long Chicago winter. My pores also appeared less noticeable, in part due to the serum's blurring effect. I could see why celebs might swear by it for adding an extra glow before a red carpet event. The only con I noticed was that there was some extra serum stuck around my hairline and eyebrows, but it was pretty easy to get rid of once I got home.
Is The Geneo Facial Worth It?
In my opinion, the Geneo facial definitely lived up to the hype and was worth the price ($185 at Shotbar Chicago, but this might vary depending on where you go). While I was originally concerned that the 15-minute treatment would mean it was less effective and more rushed than some other facials I've tried, I appreciated the great results I got while also being super efficient.
I also really liked that there was no downtime, and my skin post-Glam looked ready to go with zero redness. Getting ready that night for my dinner, I felt like I didn't really need makeup on my skin because it looked like I had a post-vacation glow. I got random compliments from friends saying my skin looked noticeably more glowy and poreless than usual for a little over a week later, which is how long the visible benefits lasted for me.
I'd love if the Geneo facial used red light therapy (one of my favorite parts of the HydraFacial) to increase the benefits I saw, as it also stimulates collagen production, targets signs of aging, and improves your skin tone and texture. But the results of this treatment — plump, firm skin and a golden glow — plus the short length of facial made me a huge fan. I'd love to try some of the other Geneo facials like the Illuminate and Hydrate to target different skin concerns. Despite it delivering microdermabrasion-level exfoliation, Sikora told me that it's gentle enough on your skin that you can get a Geneo facial once a week.
While I was gifted this experience from Shotbar Chicago, going forward, I'll definitely be treating myself to this treatment at least a few times a year. There's never not a good time to look red carpet-ready.